How to Write an eBook From Start to Finish: Your Ultimate Guide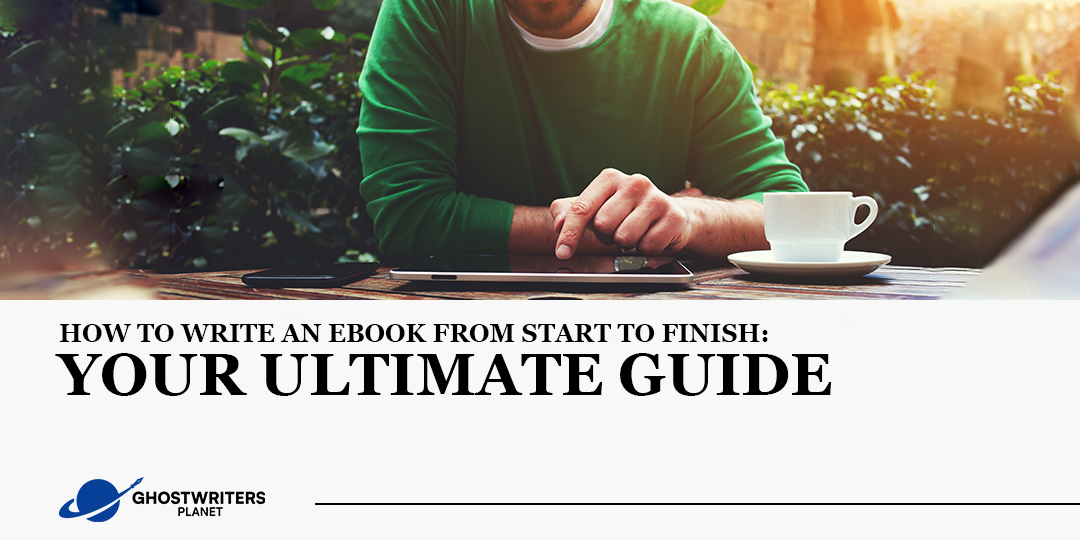 Creating an ebook can be a daunting task, but fear not! In this comprehensive guide, we will walk you through the process of crafting an engaging and informative ebook that will captivate your audience. So, let's dive in!

What is an Ebook?
Before we begin, let's clarify what an ebook is. An ebook, short for "electronic book," is a digital form of a printed book that can be read on devices such as computers, tablets, or smartphones. It is a powerful marketing asset that delivers valuable information to readers, often packaged as a PDF document for easy sharing.

Ebook Benefits:
Ebooks have become increasingly popular among marketers due to their effectiveness in generating leads and delivering in-depth content. They offer several benefits, both for your business and your audience. Here are a few advantages to consider:

1. In-depth Content: Ebooks provide an opportunity to deliver comprehensive information in an environment saturated with short headlines and soundbites.
2. Visual Appeal: Visual data, such as charts and graphs, can enhance the editorial content, making it more engaging and easier to understand.

3. On-demand Access: Readers can access ebooks whenever and wherever they want, allowing them to consume the content at their convenience.

4. Lead Generation: Ebooks serve as valuable lead magnets, attracting potential customers and helping you grow your audience.
5. Industry Thought Leadership: By sharing valuable insights and expertise in your ebook, you position your brand as a trusted authority in your industry.

Choosing the Right Ebook Format:
When it comes to choosing the format for your ebook, as an ebook writer, it's important to consider the preferences and needs of your target audience. Each format has its own advantages, and selecting the right one can enhance the overall reading experience.
Let's take a closer look at some popular ebook formats that you can utilize when offering ebook ghostwriting services:

PDF (Portable Document Format)
PDFs are widely recognized and supported across different devices and platforms. As an ebook writer, you can utilize this format to create professional-looking ebooks for your clients.
PDFs preserve the formatting of the book, ensuring that it looks consistent and reflects the author's vision. With a PDF, readers can easily navigate through the pages, zoom in or out, and even print the ebook if desired.
This format is particularly suitable for ebooks that require specific layouts, images, or complex formatting, which is essential for high-quality ebook ghostwriting services.

EPUB (Electronic Publication)
EPUB ebooks offer flexibility and adaptability to different screen sizes, making them ideal for reading on mobile devices and e-readers.
As an ebook writer, you can leverage the reflowable text feature of EPUBs, allowing the content to automatically adjust and reposition itself based on the device's screen size and font settings.
EPUB ebooks also support features like bookmarks, annotations, and text-to-speech, providing a customizable reading experience for users who want to write an ebook.
In deciding which format to choose for your ebook ghostwriting services, consider the compatibility of the format with the devices your clients' audience is likely to use and the specific features and functionalities they desire.
Remember, as an ebook writer offering affordable ghostwriting services, your goal is to provide a seamless and enjoyable reading experience that matches the client's vision and meets their audience's needs.

How to Write an Ebook?
Writing an ebook requires careful planning and execution to ensure that your content engages readers and delivers value. Let's explore the essential steps to help you create an outstanding ebook:

Choose a Topic
Start by selecting a topic that resonates with your target audience. Identify their pain points, interests, and areas where you can provide valuable insights. The topic should align with your expertise and showcase your unique perspective.

Outline Each Chapter
Create a clear and logical structure for your ebook by outlining each chapter. Define the main ideas and subtopics you want to cover in each section. This framework will serve as a roadmap for your motivational writing process and help maintain a cohesive flow throughout the ebook.

Craft Engaging Content
Use a conversational and engaging tone to captivate your readers. Share real-life examples, personal anecdotes, and relevant stories to make the content relatable. Incorporate storytelling techniques to create a connection with your audience and keep them immersed in the material.

Utilize Subheadings and Bulleted Lists
Break down your content using subheadings to guide readers through each section. Subheadings make it easier for readers to navigate the ebook and locate specific information. Additionally, use bulleted lists to present key points or tips concisely. This formatting technique improves readability and helps readers grasp information quickly.

Incorporate Visuals
Enhance your ebook with relevant visuals, such as images, infographics, or diagrams. Visuals not only break up the text but also provide visual explanations, making complex concepts easier to understand. Ensure that the visuals are high-quality, well-designed, and support the content effectively.

Include Quotes and Stats
Highlight impactful quotes from industry experts or authoritative sources that add credibility to your arguments. Incorporate relevant statistics or research findings to support your claims. These elements add depth and authority to your ebook, making it more persuasive and informative.

In the next sections, we will delve deeper into each step of the ebook writing process, providing you with valuable insights and practical tips to create an engaging and valuable ebook that will resonate with your audience.

Ebook Ideas:
If you're struggling to come up with ebook ideas, here are a few suggestions to spark your creativity:
1. New Research Findings: Share the results of an experiment or survey conducted in your industry, offering valuable insights and analysis.
2. Case Studies: Highlight successful customer stories that demonstrate how your product or service solved specific challenges and delivered positive outcomes.
3. Product Demo Guide: Create an ebook that provides step-by-step instructions on how to use your product effectively, showcasing its features and benefits.
4. Expert Interviews: Conduct interviews with industry experts, capturing their insights and perspectives on relevant topics.
5. Playbooks and Guides: Develop a playbook or guide that offers practical tips and best practices in a specific area of interest for your audience.
Writing an ebook is an excellent way to engage your audience, establish thought leadership, and generate leads for your business.
By following the steps outlined in this guide, you can create a captivating and informative ebook that will resonate with your readers. Remember to choose a compelling topic, craft engaging content, and utilize visuals and CTAs strategically.
With a well-written ebook in your arsenal, you can share your expertise and build a stronger connection with your target audience.
So, start writing and unleash the power of ebooks to grow your business!